The Wayland train accident of 1943
On August 30 1943, the Lackawanna Limited was reported to be traveling at 70 MPH as it roared past the Wayland station. It was reported that this speed was to make up twenty minutes of lost time. As a result, the Lackawanna Limited sideswiped a switcher freight engine that had not fully cleared the main track. It was reported that the emergency brakes were applied, but there was not adequate time for success with this action. The Limited's locomotive sliced off the front end of the switcher and split its boiler, derailing itself and several following cars. Every window was shattered and scalding water burst from the broken boiler of the switcher and flooded the coach which had stopped by the switcher.  Twenty-six passengers in that car were killed from the scalding water and steam. There were more than 500 passengers aboard the 11-car train.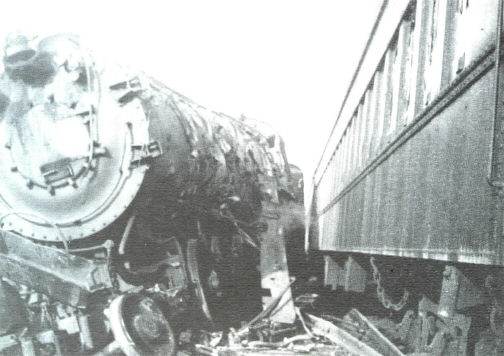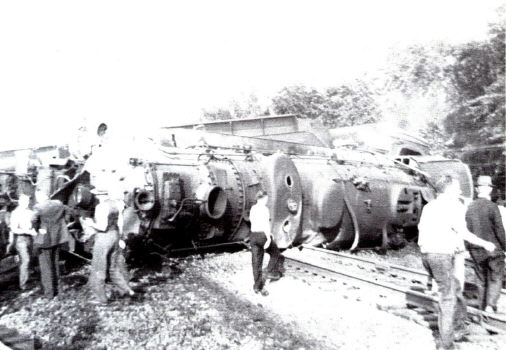 photos were obtained from http://www.paintedhills.org/STEUBEN/WaylandTrainWreck.html
Our Investigation
Through extensive research, we uncovered the exact location of the accident, and inquired as to whether or not we could get permission to be on site at the time of the accident on August 30, 2011. We were fortunate to obtain permission from the property owner, who we thank extensively.
We had roughly 4 hours to conduct our investigation. We set up static cameras and recorders in hopes of catching some residual sounds and/or visuals.
In the following video, we seemed to have captured a train whistle. We understand that there is some traffic noise here and there in the background, but roughly about 40 seconds in, you'll hear one, then a pause and two more whistle blows. There are no active tracks anywhere within at least 30 miles of this location.
We did capture a few EVP's during this investigation. Most of which were very faint voices, but here is one we got from from a stand alone voice recorder. We were no where near this recorder and are unsure what is being said.
This one is a response to the question of "who is here?". We can not determine whether it says "Louis" or "Release". We tried to go with the name Louis and further the communication but were unsuccessful.